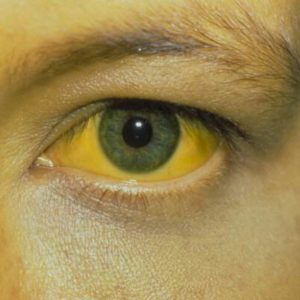 Michigan press reports that since an outbreak began last August, 376 people in Michigan have contracted the sometimes fatal illness. It's mainly spread person-to-person via contact with feces.
Angela Minicuci is with the Michigan Department of Health and Human Services.
"We haven't found one contaminated food source or exposure at this point," she says, "but we are seeing a lot of relation to people who are using opioids or drugs."
People who are, or have been incarcerated, are also considered at higher risk of getting hepatitis A, as are homeless people. A staggering 86% of those who've gotten hepatitis A in the state since last year have been hospitalized.  Fourteen people have died.
Most of the cases have been in southeast Michigan, including a recent case involving a worker at Cardamom, a popular restaurant in Ann Arbor.
It's possible people who ate at Cardamom between September 16 and October 3 were exposed.
Minicuci says people with concerns should contact their doctor.
"And from there your health provider can decide if you need that exposure prophylaxis, which is the treatment, or if your best bet is to get vaccinated."
Hepatitis A can be prevented with a vaccine.  It is now regularly administered to children.
According to the World Health Organization, in developing countries with poor sanitary conditions and hygienic practices, most children (90%) have been infected with the hepatitis A virus before the age of 10 years .
Those infected in childhood do not experience any noticeable symptoms. Epidemics are uncommon because older children and adults are generally immune. Symptomatic disease rates in these areas are low and outbreaks are rare.
In developed countries, children often escape infection in early childhood and reach adulthood without immunity. Ironically, these improved economic and sanitary conditions may lead to an accumulation of adults who have never been infected and who have no immunity. This higher susceptibility in older age groups may lead to higher disease rates and large outbreaks can occur in these communities.